Nickname:
"Katsche"
Club:
FC

Bayern

Munich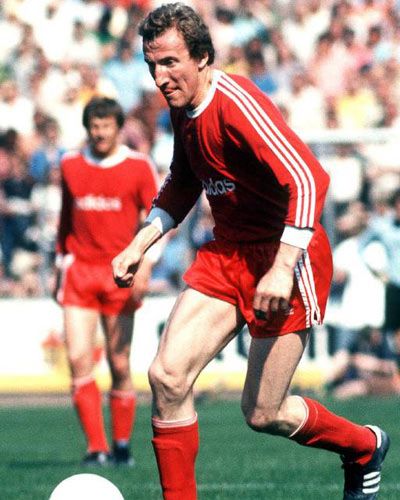 INFO:
Hans-Georg Schwarzenbeck was exactly the same height as Franz Beckenbauer, but those were the only physical characteristics the two did share. While Beckenbauer stood for elegance and lightfootedness, Schwarzenbeck almost looked like Beckenbauer's antipode – a tough tackling, physically imposing man-marker that managed to compensate his lack of subtlety with his determined and awe-inspiring physical appearance. These two so different football twins however complemented each other in a perfect manner, as both went on to win the biggest prizes in European and World football as Schwarzenbeck as traditional defensive center back provided the cover for Beckenbauer to develop his famous attacking libero style. The pair developed a perfect understanding of each other, as they played together for Bayern Munich for over 11 straight seasons.
Despite winning the World Cup, the European Championship and the European Cup, "Katsche" Schwarzenbeck always remained a humble and straightforward man, reliability paired with ambition were his trademarks. Born in Munich, Schwarzenback chose to play football at the age of 12, he joined the Bayern youth team in 1962, after his school years he began an apprenticeship as typographer, he almost decided to quit playing football as the apprenticeship was so demanding that he found it hard to fulfill both duties. His first game for the West German youth national team did not show any signs that this player would be destined for greater things, as he caused a penalty and scored an own goal. In 1966, at the age of 18, Schwarzenbeck joined the Bayern seniors, in a team of technical players, Schwarzenbeck stood out as a square-edged, unadorned, no nonsense kind of player. In short, exactly the sort of player his coach Tchik Cajkovski was looking for to add to his team of "thoroughbreds". 14 years later, when Schwarzenbeck had to call it quits due to a severe harmstring injury, he could look back at an almost unrivalled trophy haul for a man-marker: once World Champion, once European Champion, four times European Cup winner, once Intercontinental Club Champion, five times domestic Champion and three times domestic Cup winner. In his first two years, Schwarzenbeck was used as a left full back, but in 1968, new manager Branko Zebec realized that Schwarzenbeck was much stronger as a center back and from then on, Schwarzenbeck never looked back.
About his relationship with the great Franz Beckenbauer, Schwarzenbeck once said the following: "Franz reminds me of my old teacher in the printing office. He handled printing ink all day long but still his hands always were clean. I, however, only had to look at the printing machine and I already would get dirty!"
Schwarzenbeck's finest hour came on 15th May 1974, when he scored the last-minute equalizer in the first European Cup final vs. Atletico in extra-time with an untypical long-range shot. The game ended 1-1 and the repeat match two days later Bayern won convincingly 4-0. Without Schwarzenbeck's unlikely goal, the great Bayern era of the mid-70s would not have happened. It was however typical for Schwarzenbeck after that game that he said "I wish Müller had scored that goal!", as he did not like the attention towards him one bit.
ADDITIONAL LINKS:
http://www.bigsoccer.com/forum/showthread.php?t=316822
http://de.wikipedia.org/wiki/Georg_Schwarzenbeck
http://en.wikipedia.org/wiki/Hans-Georg_Schwarzenbeck
http://www.fifa.com/worldfootball/stati ... index.html