Club:
Nottingham

Forest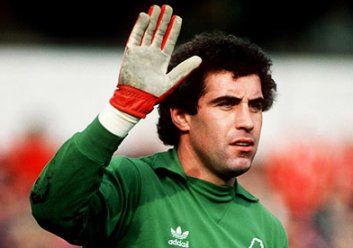 Growth type:
Standard/LastingINFO:
Born and brought up in post-war Leicester, Peter Shilton's sole ambition was always to be the best goalkeeper in the world, and he achieved this, perhaps for many consecutive years. From his early years with his native Leicester City, to the twilight of his career in the 1990 World Cup, Shilton was perceived as a driven and serious soul. It was this drive, dedication and ambition, coupled with a fair amount of natural talent that saw Peter Shilton surpass all appearance records, both national and international.
It was during the late 1970's into the early 80's that Peter Shilton began to emerge as one of the worlds best goalkeepers in many people's eyes. At six feet even Peter Shilton was not a man of immense physical presence, however, his footwork, suppleness and agility made him a near impenetrable barrier at times.
It was at this point in his career that Shilton was locked in a power struggle of sorts; for the right to play in the national side. His adversary was Liverpool's Ray Clemence, a man who Shilton in normal circumstances regarded as a friend. From 1978 through until 1982 Peter Shilton and Ray Clemence were played on a rotational basis by manager Ron Greenwood. It was not until the eve of the opening round of the 1982 World that Peter Shilton was finally told he was to be the undisputed number one.
For the next eight years Peter Shilton dominated the England goalkeeping position and would not relinquish his grasp until after the 1990 World Cup, which happened to be his fortieth year.View image detail
Peter Shilton's club career was spent predominantly with Nottingham Forest, Southampton and Derby, but he had very fruitful spells at Stoke City and of course Leicester. It was however with Nottingham Forest, and in particular with Brian Clough, where he achieved his greatest prizes. 'Old Big Head' as Clough was often referred to, purchased Shilton as the bedrock of his team, after telling Shilton of his dreams for the club. In the seasons that followed, Shilton inspired Forest to the most succesful period of the club's history; they won the League twice and the European Cup twice.
HONOURS:Club
Leicester City
Football League Second Division: 1970-71
FA Charity Shield: 1971
Nottingham Forest
First Division League Championship: 1977–78
FA Charity Shield: 1978
League Cup: 1979
European Cup: 1979, 1980
European Super Cup: 1979
International
1990 FIFA World Cup: 4th place
125 International caps
Individual
PFA Players' Player of the Year: 1978
VIDEOS:
ADDITIONAL LINKS:
http://www.bigsoccer.com/forum/showthread.php?t=324379
http://en.wikipedia.org/wiki/Peter_Shilton
http://www.englandcaps.co.uk/PeterShilton.html