Denmark
Euro 1992 Champion
DENMARK 1992 EUROPEAN CHAMPION
Standing: Schmeichel, Olsen, Sivebæk, Vilfort and Christofte.
Bended: B. Laudrup, K. Nielsen, Povlsen, Jensen, Andersen and Christensen.
Team Roster

:Coach
:
Richard Møller Nielsen

Goalkeepers

:
#1 -
Peter SCHMEICHEL
#16 -
Mogens KROGH
Defenders

:
#2 -
John SIVEBÆK
#3 -
Kent NIELSEN
#4 -
Lars OLSEN
©
#6 -
Kim CHRISTOFTE
#12 -
Torben PIECHNIK
#17 -
Claus CHRISTIANSEN
Midfielders

:
#5 -
Henrik ANDERSEN
#7 -
John JENSEN
#8 - Johnny MØLBY
#13 -
Henrik LARSEN
#18 -
Kim VILFORT
#19 -
Peter NIELSEN
#20 -
Morten BRUUN
Strikers

:
#9 -
Flemming POVLSEN
#10 -
Lars ELSTRUP
#11 -
Brian LAUDRUP
#14 - Torben FRANK
#15 -
Bent CHRISTENSEN
Formation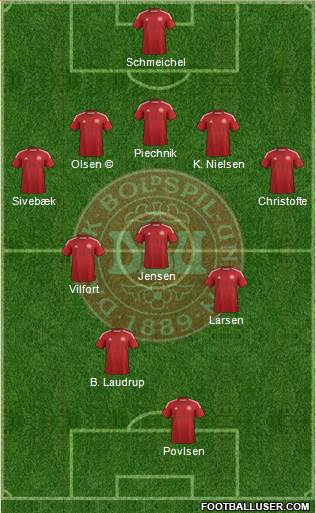 GK
: Schmeichel
CB
: Olsen
SWP
: Piechnik
CB
: K. Nielsen
RB
: Sivebæk
LB
/
LWB
: Christofte
CMF
: Jensen
CMF
: Vilfort
CMF
: Larsen
AMF
/
SS
: Laudrup
CF
: Povlsen
Captain:
Lars Olsen
Short Free Kicks:
Flemming Povlsen
/
Brian Laudrup
Long Free Kicks:
Kim Christofte
/
Lars Olsen
/
Kim Vilfort
Free Kick 2: -
Left Corner Kicks:
Brian Laudrup
/
Kim Christofte
Right Corner Kicks:
Brian Laudrup
Penalties: -
Player to go up on free kicks and corners:
Lars Olsen
INFOS:
This is the very team which caused the arguably greatest upset in the history of international football by winning a tournament which they hadn't even qualified for in the first place, infamously snatching the European Championship trophy from the grasps of traditional powerhouses like Germany, England, France and Holland. But the sensational fairy tale triumph did of course have a certain dark aspect to it, having been won at the expense of poor Yugoslavia who had originally qualified from Denmark's qualifying group. But with the most brutal conflict since the Second World War raging in the Balkans, the international society cracked down on the Yugoslavs and penalised them by preventing them from taking place in the European Championship as according to UN Resolution 757. Denmark were called in as replacement ten days before the tournament and coach Richard Møller Nielsen quickly assembled the squad which went to the neighbouring country of Sweden and took the grand prize to everyone's astonishment.
What people since then probably has appreciated most about this team was the legend which will probably forever sorround its achievement: that they walked right in from the beach into an international tournament, unfit and on holiday. Though it definitely is true that their pre-tourny preparation was virtually non-existent, the late call-up from UEFA considered, the players had only finished their respective leagues a few weeks prior and were hardly completely out of form. A quick glance over the squad list also tells the story of how this side was packed with tough grafters, utterly loyal to the cause, even against the bleakest of odds. But this psyche, though integral to the eventual triumph, also displayed what a dramatic turn the Danish national team had taken recently. Current coach Møller Nielsen had been assistant to Sepp Piontek through Denmark's rise as a world-class team up through the 80's - and though Sepp Piontek himself had been a hardcore full-back with Werder Bremen in his playing career, he had managed to install mesmerising beauty into his Danish side. Piontek did first of all value the ability to fight but with his huge wealth of technically gifted players, he also felt that they had an obligation to 'show the world that football isn't only destructive'.
Richard Møller Nielsen, who took over after Piontek, however, was likely one of the game's biggest pragmatists of his time. Møller Nielsen valued solid defending and nothing more. He had already won Danish championships with Odense Boldklub this way and saw no reason to change at all. His defensive outlook saw Jan Mølby and the Laudrup brothers walk out on the team during the EURO '92 qualifying campaign (Brian would later return), delusioned with the negative approach. This way of playing football did also largely come to view during the games in Sweden. Especially against the opponents of France, Holland and Germany, the technically grossly inferior Danish side almost completely resorted to counter attacks. Effectively, Brian Laudrup, returned from his retirement, was the team's only offensive card who on his own could threat the opposition goal with his stabbing runs with the ball on his feet. Møller Nielsen's tactics stood in stark contrast to Piontek's irresistible class of 1986 and as a result, it has since this sensational triumph been hard to praise the team for their way of winning it. No doubt did the sudden major victories on the other side of the Sound once again bring the euphoria of the 80's to the surface with people venturing the city 'till early in the morning but the side never the less continued to stand in the shade of their predecessors, the difference simply not ignorable: the 1992 side shocked the world but the 1986 side dazzled it.
Surely the win was all that mattered in the end, something which Piontek never achieved, Møller Nielsen's supporters to this day protests. But the side which Piontek took the World Cup was mesmerising and does still hold the Danish football mentality in a spell-bound state of acknowledgement: rather go out with a bang after having played fantastic football, than being labelled boring. That is to this day is the curse of the 1992 side: they won but they were not entertaining and will as such always play second fiddle to 1986 in overall popularity. In terms of trophies however, they could hardly get better.