Nicknames:
Црвено-бели / Crveno-beli (The Red-Whites)
Club Stadium
: Marakana, Belgrade
Capacity
: 55.538
Chairman:
Svetozar Mijailović
Coach:
Vladan Milojević
HOME KIT: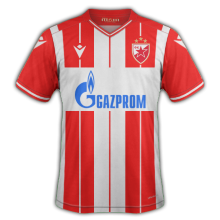 AWAY KIT: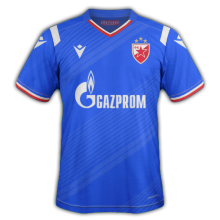 THIRD KIT: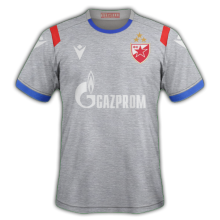 Palmarès:
30 times Serbian SuperLiga winners
24 times Serbian Cup winners1 time Uefa Champions League winners
1 time Fifa Club World Cup winners
2 times Mitropa Cup winners
Other informations:
- Most-capped manager:
Miljan Miljanić
(328 caps)
- Most-capped player:
Dragan Džajić
(590 caps)
- All-time top scorer:
Bora Kostić
(230 goals)
- Biggest rival:
FK Partizan Belgrade
History
Spoiler: show

Red Star was formed on 4 March 1945. In the beginning it was a Youth Physical Culture Society with seven sports sections - athletics, rowing, basketball, volleyball, football, chess and swimming. On that day the very first football match was played. Red Star played against a team of the First Battalion of the Second Brigade of KNOJ. Red Star won 3:2 (2:0). Two goals were scored by Tomašević and one by Pečenčić. Seven days later Red Star played a Team of British Army Mission representatives and won 12:0 (5:0). During 1945 Red Star football club played no less than 36 matches. They won 30, drew 5, and lost only one match (against Romania in Timişoara on 23 September 1945 - 1:2 (0:2)).

On 12 October 1946 Red Star Youth Physical Culture Society merged with a similar society called Student (in fact Student was absorbed into Red Star), and the number of sports sections in the Red Star sport society increased. In 1948 sports sections within Red Star were transformed into clubs, and Youth Physical Culture Society Red Star became Sport Society Red Star. From 1949 all of the clubs were functioning more-less as separate entities (decentralized).

During the 1950s Red Star made several tours of South America; they represented Yugoslavia at the Rio Cup in 1951, but lost all three matches against Juventus, Nice and Palmeiras in São Paulo. Following the cup, they played Santos. In 1955 they returned to the continent, playing 11 matches in Argentina, Brazil and Uruguay. They returned again in the winter of 1961-62, playing another 10 matches in Argentina, Chile, Colombia and Uruguay.

Red Star played a peripheral role in a tragedy of football history. In 1958, Manchester United played at Red Star in a European Cup fixture. The plane that carried the team back to England crashed in Munich, shortly after refuelling. Eight united players were among the dead. Manager Matt Busby and several other players were injured. The incident became known as the Munich air disaster.

Red Star is the only Serbian club that has won a UEFA competition, winning the 1991 European Cup in Bari, Italy. The same year in Tokyo, Japan the club won the Intercontinental Cup. Red Star lost the European Super Cup finals that year to the Cup Winners' Cup champion, Manchester United (although only one game was played, in Manchester, instead of two, due to political situation in Yugoslavia). The club also made the final of the UEFA Cup in 1979, losing to Borussia Mönchengladbach. Red Star also has won a record 26 national league titles.