Club:
Indepen
diente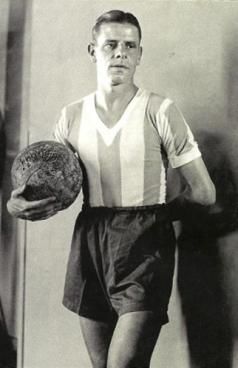 Growth Type:
Late/LastingINFO:
Antonio Sastre (April 27, 1911 – November 23, 1987) was an Argentine footballer who played most of his career for Club Atlético Independiente and São Paulo of Brazil. He is one of the 24 players inducted into the Argentine Football Association Hall of Fame. Sastre was an all-round midfielder who could play well almost anywhere on the pitch due to his intelligence and versatility.
Sastre is also known as one of the first true playmakers of the pre-war era as well as one of the best. Sastre won 11 titles at club level, at 3 international championships with the Argentina national team.
Sastre began his football career at Progresista, being traded to Independiente in 1931. With the coming of forwards Vicente de la Mata and Arsenio Erico, Independiente built a powerful formation that would win the 1938, 1939 league titles plus domestic cups Ibarguren, A. Escobar and international Copa Aldao twice.
During his 12 seasons with the club he played 340 games, scoring 112 goals. In 1942 Sastre joined Brazilian side Sao Paulo which last title had been won in 1931. Playing for Sao Paulo, Sastre won three Paulista championships in 1943, 1945 and 1946.
"When I arrived in Sao Paulo, my adaptation was not easy. The media said that the club had acquired a bondi, as they referred to old trams, rusted iron. We lost the first two matches, causing the coach resigned. When Lloreca was hired as coach and I was not used to train every day, I talk to him and reached an agreement which allowed me to go directly to the field on Sundays, before the lunch. In the fist match we played with Lloreca coaching, we won by 9–1 and I scored six goals"
— Antonio Sastre remembering his years with Sao Paulo.
Sastre returned to Argentina in 1947 when he helped Gimnasia y Esgrima de La Plata win the Segunda División championship and gain promotion to the first division that same year.
Sastre played for the Argentina national team on 34 occasions, scoring 6 goals. He won Copa América with Argentina on two occasions, in 1937 and 1941.